Hazardous waste disposal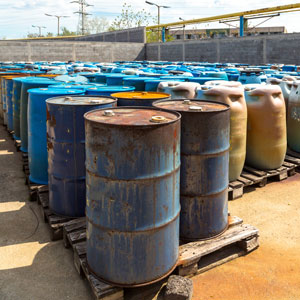 With the implementation of Hazardous Waste Disposal Regulations and the Landfill Directive, we've seen some of the biggest changes in the management and the disposal of hazardous waste in the last 30 years. Many new wastes are now classed as hazardous and the adoption of more stringent Waste Acceptance Criteria testing has restricted the number of sites able to process certain types of hazardous waste, chemical waste and toxic waste.
At PJ Environmental, we are here to work through those complex and ever changing regulations for you, to provide the most cost-effective and compliant hazardous waste disposal, industrial, bulk hazardous waste disposal and chemical waste disposal solutions. Using our extensive knowledge, we will ensure all documentation and licensing is in place.
We mainly operate our hazardous waste disposal and pickup service in Manchester and Liverpool, however, we can operate nationwide, finding the most appropriate hazardous waste disposal solutions local to you.
We are able to deal with the following waste streams:
Chemical Waste
Laboratory Clearance / Lab Waste
Engineering Waste
Oil Sludge Removal
Paint Disposal and Solvent Waste
Clinical and Medical Waste Service
Powders, Liquids and Viscous Wastes
Radioactive Waste
Electrical waste (WEEE)
Explosives, fireworks, flares